2023 Super Bowl LVII Drinking Game Rules & Gameplay
Drinking game of the NFL gods, the 2023 Super Bowl LVII drinking game is like a touchdown for your mouth. You will be competing against other party guests while the Chiefs and Eagles square off on the gridiron.
Written by DP | Updated
Reminder: Play responsibly. If that means using water, use water.
The Super Bowl drinking game might be the most challenging of all drinking games. It's way harder than the NFL Football drinking game. It has an astounding amount of configurations to make it fun. Plus, it will help ease the pain of not winning your football pool because your squares are ridiculous numbers like 2 and 5, and, because it's Super Bowl Sunday, helps ease the Sunday Night blues.
As your drinking experience in the league increases (ok, the night), so too does the scope of your coverages and assignments. For example, a Veteran follows the rules that he or she was forced to play by as a Rookie, plus some new ones. A Pro Bowler follows Rookie and Veteran rules in addition to their own. A Hall of Famer plays (drinks) by all rules. As for Tom Brady mode ... well, you aren't Tom Brady, so don't play by them, as they are perilous.
Before we kickoff the game, make sure that you have the equipment and gear needed to play, including your beverage(s) of choice and a TV capable of showing the game.
LFG!
House Rules
The Chiefs vs. Eagles Super Bowl drinking game starts long before the game's first kickoff. These custom rules remain in effect throughout the night and are to be played in addition to the rules designated by your status in the league (rookie, veteran, etc.).
1 Drink whenever a beer commercial airs
1 Drink if someone mentions the Mahomes family
1 Drink anytime a Manning appears on your Television set
1 Drink just for Andy Reid's awesome mustache
1 Drink if announcers refer to the game as the Andy Reid Bowl
1 Drink if announcers refer to the game as the Kelce Bowl
1 Drink every time Travis Kelce doesn't block on a play
1 Drink if Jalen Hurts tucks the ball and runs instead of passing
2 Drinks if AJ Brown or Devonta Smith have 150+ receiving yards
2 Drinks if someone says G.O.A.T. and doesn't mean Brady
2 Drinks if John Madden is mentioned or shown on screen
2 Drinks if Patrick Mahomes losing Tyreek Hill this season is mentioned
3 Drinks if someone tries to claim Aaron Rodgers is better than Brady
4 Drinks if Gronk misses the field goal
Rookie Rules
As a rookie, you're just happy to be playing in the Super Bowl drinking game. You had a decent college career, which turned into a good draft slot, and that has translated into a spot on the 53-man drinking roster.
Here is your gameday drinking playbook. Prior to the start of the game, you select one of the two teams playing in the Super Bowl to be on and you follow their scoring. That's it.
Take One Drink
Per point scored by your "team"
Veteran Rules
You're a seasoned vet with a solid drinking resume. The team isn't looking for Super Bowl heroics from you, but they do trust that you won't miss key blocking assignments. Your job is to contribute in all three phases of the game. Thus, your Super Bowl drinking game assignment is as follows. Like a rookie, you will also select one of the two real NFL teams playing in the game and follow the scoring. However, as a contributor on offense, defense, and special teams, you will be responsible for drinking on all points scored.
Take One Drink
Per point scored by your "team"
Per point given up by your "team"
Pro Bowler Rules
Unlike rookies and no-name league veterans, fans around the world will remember your performance, for better or worse, in the Super Bowl drinking game. Expectations are running high based on your annual trips to Honolulu and your significantly oversized contract. You're a media darling, so you love the attention leading up to the game. Don't let it get to your head though. Snap on your helmet, put in your mouthguard, and grind out those yards (drinks), and just maybe you'll be hoisting the Lombardi trophy after the game.
A solid performance in the Super Bowl drinking game is the fastest way to the contract extension you've had your agent peacocking about. As we're sure you've heard, Lambos don't buy themselves.
Here's your drinking game playbook.
Take One Drink
Every point that is scored by both teams
Take Two Drinks
All passing plays of 25 yards or more
All running plays of 10 yards or more
A team scores a 2 point conversion (seems obvious, right?)
Take Three Drinks
A 50+ yard field goal is made
A kickoff or punt return goes for a touchdown
If Tom Brady is playing in the game and you're not a fan (when will he retire!?)
Take Four Drinks
A team scores a safety
A team utilizes the flea flicker
There's a fake punt or field goal
If Tom Brady is playing in the game and you are a fan (life is good, right?)
Finish Your Drink
Any time a player gets ejected
Hall of Famer Rules
Hall of Famers are the best of the best. Like Top Gun, there's no points for second best. Follow all of the rules of Pro Bowler, plus what's below.
Take One Drink
If any Budweiser commercial makes you laugh/smile/tear up
For every first down
For every interception
Any time someone mentions Bill Belichick
Any time they show Football Fans from bars in the cities where the teams are from.
Any time the Quarterback gets sacked
Take Two Drinks
If the halftime show sucks
Take Three Drinks
If at any point in the night, the wings, chips or beer have run out.
Take Four Drinks
For every player that gets ejected (if applicable)
Finish Your Drink
When the game ends. Congrats to you, you've earned it. Chug it on down, son!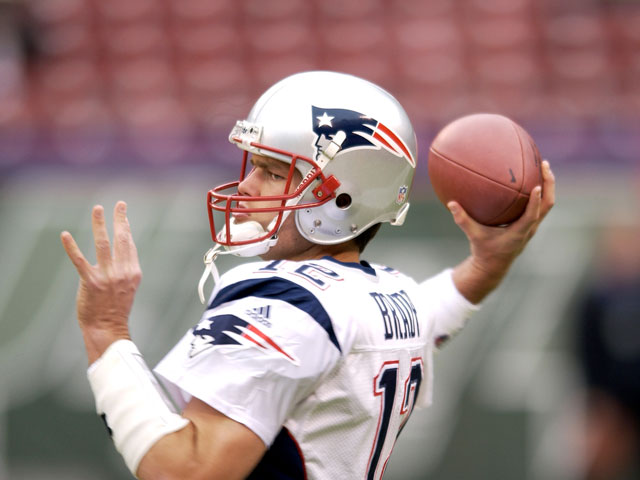 Tom Brady Mode
Tom Brady has played in 17.5% of all Super Bowls ever played, as he has 10 appearances over 57 contests. However, he has miraculously only played in one Super Bowl, the last one with Tampa Bay, where the game's outcome wasn't decided until the 4th Quarter. Thus, the Tom Brady rule of the Super Bowl drinking game, also called the G.O.A.T. rule, is to count your drinks along the way and not drink them in real-time, thereby saving them all for the 4th quarter when your team (you) needs you the most.
This will surely lead to pain, hospitalization, or worse, so we advise you to never, ever play in Tom Brady mode. It's like the ultimate power hour. We're just highlighting it for the purpose of explaining the Super Bowl drinking game in its entirety.
Past 10 Super Bowl Drinking Games
If it's the hardest of all sports drinking games, then we should highlight when and where it was played. Many drinks were had in the Rams victory. Many.
Super Bowl LVI Drinking Game | Bengals vs Rams (2022)
Last year's Super Bowl will be played by the Cincinnati Bengals and the Los Angeles Rams, after defeating the Kansas City Chiefs and the San Francisco 49ers respectively.
Super Bowl LV Drinking Game | Bucs vs Chiefs (2021)
Was an absolute blast at Raymond James Stadium in Tampa, Florida. So much more fun when Tom Brady is playing and it changes up the rules of the game. The 31-9 score with the Tampa Bay Buccaneers beating the Kansas City Chiefs made for some wild drinking scenarios. It was hard to watch TB win while not on the New England Patriots, but such is life. Can't hate CBS for showing it, ya know?
2/2/2020 - Super Bowl 54 @ Hard Rock Stadium (Miami) - Kansas City vs San Francisco
2/3/2019 - Super Bowl 53 @ Mercedes-Benz Stadium (Atlanta) - New England vs. Los Angeles Rams
2/4/2018 - Super Bowl 52 @ U.S. Bank Stadium (Minneapolis) - New England vs. Philadelphia
2/5/2017 - Super Bowl 51 @ NRG Stadium (Houston) - New England vs. Atlanta
2/7/2016 - Super Bowl 50 @ Levi's Stadium (Santa Clara) - Denver vs. Carolina
2/1/2015 - Super Bowl 49 @ University of Phoenix Stadium (Glendale) - New England vs. Seattle
2/2/2014 - Super Bowl 48 @ MetLife Stadium (East Rutherford, N.J.) - Seattle vs. Denver
2/3/2013 - Super Bowl 47 @ Mercedes-Benz Superdome (New Orleans) - Baltimore vs. San Francisco
Playoff Teams for Super Bowl LVII
This year's game will take place in Glendale, Arizona on Sunday, February 12, 2023. Kickoff will be at 6:30pm and Rihanna will be the musical guest for the Super Bowl Halftime Show.
Here are the playoff teams. A line through the middle means they've been knocked out.
AFC Playoff Teams in 2023
Kansas City Chiefs
Buffalo Bills
Cincinatti Bengals
Jacksonville Jaguars
Los Angeles Chargers
Baltimore Ravens
Miami Dolphins
NFC Playoff Teams in 2023
Philadelphia Eagles
San Francisco 49ers
Minnesota Vikings
Tampa Bay Buccaneers
Dallas Cowboys
New York Giants
Seattle Seahawks
Other Super Bowl Drinking Games to Play
Waterfall
The rules of Waterfall for the Super Bowl Drinking game are simple. Everyone at your Super Bowl party selects one of the two teams to root for. The team of people that rooted for the team that actually lost the Super Bowl must perform a waterfall.
Super Bowl Squares Drinking Game
The game within the game. If you and your squad are feeling extra ambitious, you can set up a traditional Super Bowl square 10x10 block and pull names out of a hat to fill the squares. Take the scores at the end of each quarter and the person who "won" that quarter gets to assign a drink to someone else. To make it more interesting and add drama, you could have it be a penalty to have the correct numbers at the end of any given quarter.
Super Bowl Drinking Bingo
You can also print out custom bingo cards with football plays on them. Here are some examples below:
Beer Commercial on TV
Chiefs Score
Eagles Score
Interception
Safety
Touchdown
FAQs
What is the Super Bowl Drinking Game?
The Super Bowl Drinking Game is a drinking game where the set of rules dictates how often a player must drink according to what is happening both in the game, and during the live broadcast. Player give and take drinks according to plays that the Chiefs and Eagles run, as well as which commercials air, what the announcers say, and any other special circumstances that arise over the course of the night.
We're as confident as Tom Brady in the 4th Quarter of a Super Bowl that we have the best Super Bowl Drinking Game running.
How do you make a Super Bowl party fun?
You make a Super Bowl party fun by being a great host, serving lots of delicious food, and having a great TV set up for watching the game. In our opinion, making a Super Bowl fun also includes playing the Super Bowl Drinking Game.
Depending on how you interpret the rules above, you'll drink when Jalen Hurts has his inevitable 45+ yard run, and, when Patrick Mahomes scrambles out and hits Jerrick McKinnon for a touchdown on the run. Fumbles? Drink. Interceptions? You'll drink to those, too.
Playing games during the Super Bowl adds a layer of competition and excitement to the party. Just don't drink too much or you may regret it later.
How do you make a Super Bowl drinking game?
You make a Super Bowl drinking game by coming up with an idea, setting up the rules, and then playing it. The ideas for a good Super Bowl drinking game vary based on who is creating the concept. In general, there are two ways to create a SB drinking game.
The drinking game follows the action in the game
The drinking game is independent of what is going on
For example, our Super Bowl drinking game follows the on-field play as well as the commercials and general circumstances surrounding the game and the party. Players must take sips according to rules that include points scored, yards gained, and more.
The second, independent way could simply be playing your favorite drinking games, regardless of touchdowns scored and the Manning Brothers being on TV. This could include Beer Pong, Flip Cup or Kings Cup.
Do people drink during Super Bowl?
Yes, people drink during the Super Bowl. In fact, Super Bowl Sunday is one of the top alcohol consuming days of the entire year, right alongside of Thanksgiving, Christmas, Independence Day, Memorial Day and Labor Day.
Wrapping Up
You think you have what it takes to win the Big Game on Super Bowl Sunday?
No, not the actual Big Game. We're talking about being the Patrick Mahomes of The Ultimate Super Bowl drinking game. Why Mahomes? Because unless you played on "Tom Brady Mode", which you shouldn't, then you can't be Tom Brady.
When it comes to party ideas, this is the ultimate. It's way more fun than the actual football game itself. It's entertaining throughout the night. It's better than listening to the announcers (or at least makes that tolerable). It's there for you in ways that the commercial breaks haven't been for years. And, it helps insulate a tough loss if your favorite team makes a Super Bowl appearance and doesn't come away with the W.
Anyway, let's get this game trending!